How to improve the speed and quality of offset printing on thin paper?
1) When knocking the paper, the method of thin paper and thick paper (100-350g /?) Is different. The thin paper knocking paper should be knocked evenly and evenly. The smaller the interval of the knocking paper section, the better, the best spacing, so as not to cause Crumpled paper. Generally, for paper eager to print on the machine, just knock the trailing tip to keep the gripper flat for smooth paper feeding.
2) The paper presser foot is smaller than when printing thick paper, generally press about 5mm.
3) The paper feed roller should be lightened as much as possible, based on the paper roller smoothly rolling when the paper passes through, to reduce the resistance and prevent the paper from curling.
4) For machines with better light control systems, such as KBA and Komori offset presses, it is necessary to clean the paper dust at the mouth of the mouth in time. It is best to clean it once a shift to avoid affecting the light control sensitivity and causing the machine to stop for no reason. . Because, for thin paper printing, the light control function is more important.
5) The temperature and humidity of the printing workshop should be consistent with the paper library to prevent the paper from lifting the leaf edge or shrinking, which will affect the smoothness of overprinting and paper feeding. Enterprises with conditions can achieve better results by using air conditioners or air humidifiers. If there are no conditions, they can take measures such as watering and drying paper to improve the printability of the paper.
6) When printing thin paper, the printing speed is slightly faster, and the delivery system and paper delivery system will be more stable.
Generally speaking, for a machine with a maximum speed of 10,000 prints / hour, the speed is preferably set at about 6,500 prints / hour; for a high-speed machine with 15,000 prints / hour, the printing speed is preferably set at 9,500 prints / hour.
Oven Crispy Basket/Tray is made of Food-grade PTFE, reinforced by Strong Teflon Material, which is a brand-new product for Non-stick and Crispy solution, would keep your food always crispy.
This basket could apply to Oven or BBQ, help you lift and turnover the food easily!
And this Crispy basket is FDA & LFGB & CA65 Certificated, our factory is BSCI Audited also!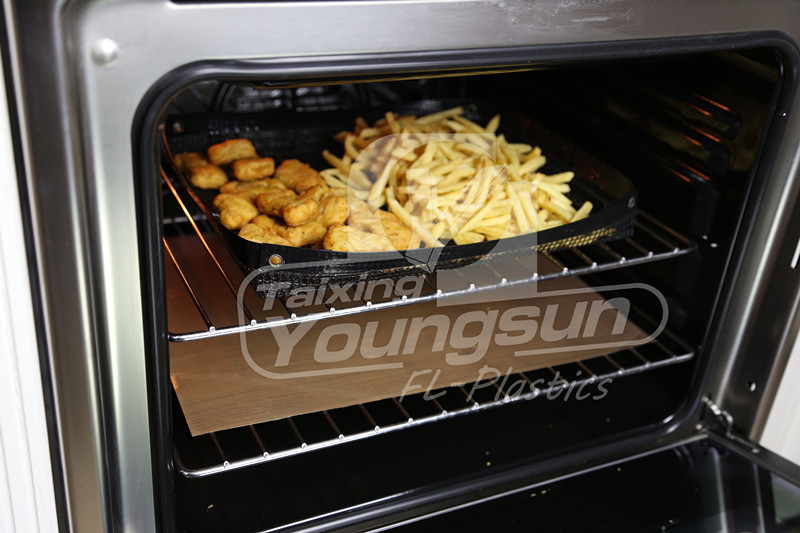 Oven Crispy Basket/Tray
Oven Crispy Basket,Oven Crispy Tray,Pizza Mesh Tray,Mesh Baking Tray,Non-stick Basket,Non-stick Oven Basket
Jiangsu Esone New Material Co,.Ltd , https://www.cookware-manufacturer.com